Terrafilum
Born out of a passion for Business, Manufacturing, and Golf, our founder formulated this concept with years of experience and hard life lessons.  The idea solidified when his passion for golf and age collided.  Chris has always held his clubs in a unique way – anchored under his right arm.  Over the years, this constantly left him with abrasions from the golf club.  He needed a new design for his grip, so he could keep playing.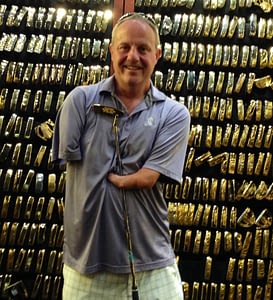 Working with a major golf equipment supplier, he learned he wasn't alone.  There were other folks that held a golf club in a similar fashion.  After hours on the range with the equipment designer, a prototype was developed.  From the original concept, other designs were fabricated until the final design was put to the test.
Additive Manufacturing helped achieve rapid prototyping and a real solution to the problem.  Behind the solution was a material where we could get strength, chemical resistance, and coating adhesion.  There wasn't a lot of fluff or special circumstance.  Just a real need, satisfied for a real person, to enable continued enjoyment of a real passion.  Chris understood that if he could coordinate this for himself, then he could help other people by helping solve problems with his material knowledge and what better way to do that then to serve the industries that helped him – Additive Manufacturing and Materials Manufacturing.